One accessory I always like to add to my bike is a handlebar cup holder. These aren't the typical water bottle cup holders that many people stick to the frame of their bikes but rather are cupholders that mount to your bike's handlebars. Since I'm primarily riding my bike for transportation, rather than recreation, I'm not necessarily looking to hold sporty water bottles. For me, it makes more sense to have something to hold coffee cups, fountain drinks, bottles/cans, and similar items.
The HandleStash is a neat handlebar cup holder that I recently added to my bike. It's different from many other cup holders because of its design. The biggest issue I've always faced when riding with a drink is dealing with spills when hitting bumps or uneven terrain. The HandleStash shock-absorbing cup holder has a design that works to address this issue.
In this HandleStash review, we'll look at what the HandleStash is, how it works, and what makes it different. We'll also discuss the things I like about the HandleStash, as well as a few things you should think about if you're looking to get this cup holder.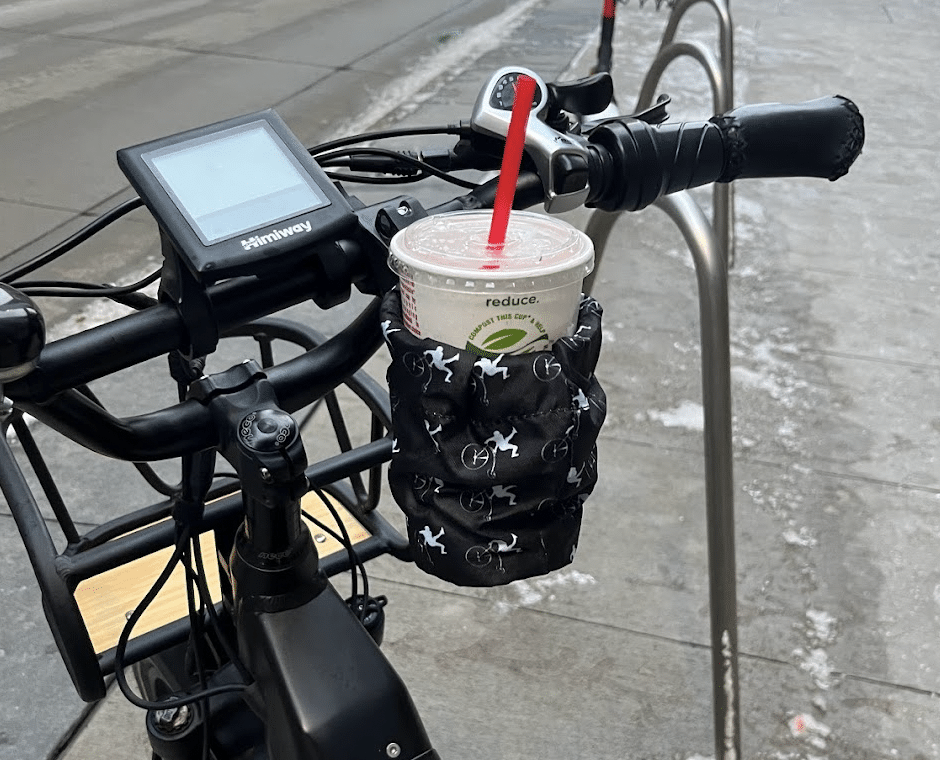 What Is The HandleStash Shock Absorbing Bike Cup Holder? 
The HandleStash is a shock-absorbing cup holder that mounts to your bike's handlebars. It comes in a variety of different colors and patterns. I opted for the "Flying Dutchman" pattern, which features a guy falling off a penny-farthing bike. You can go with one of these decorative patterns or opt for a solid color or simple pattern, so whatever you're looking for, you can probably find it.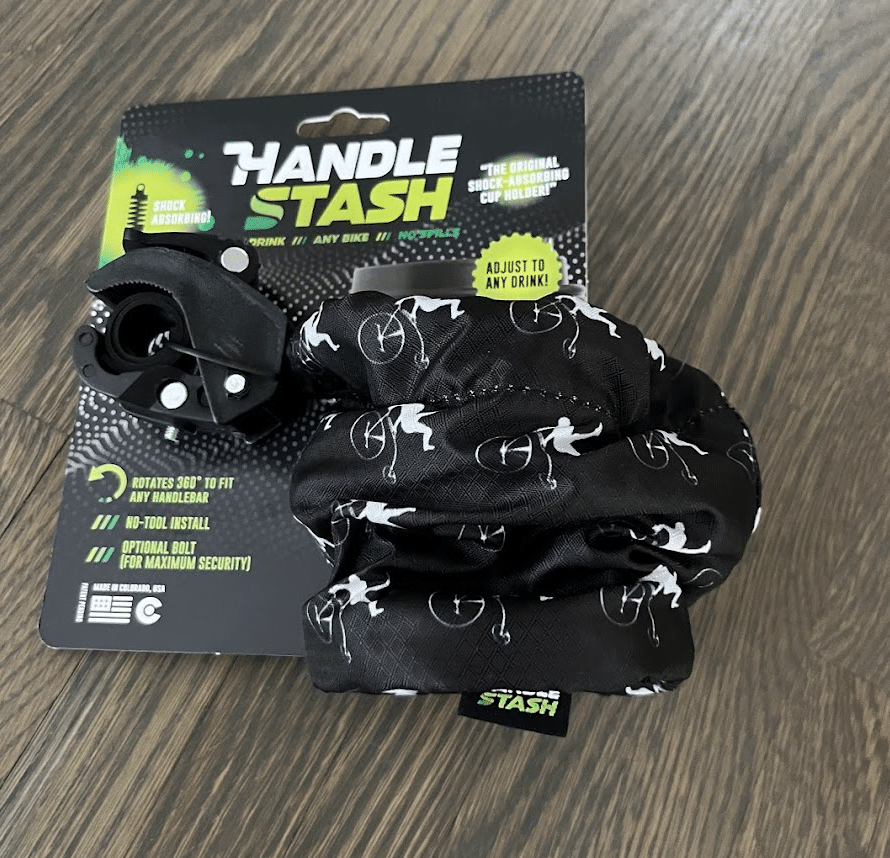 The package includes the HandleStash, along with a foam insert you can put into the bottom of the HandleStash if you need to hold smaller drinks. The HandleStash itself is made of stretchable elastic and has a mounting bracket that can be rotated to whatever position you need. 
Mounting the HandleStash to your bike is easy. The package includes a rubber mounting strip that you wrap around your handlebars. You then mount the HandleStash around your handlebars, then tighten it by twisting the tightening nut. This is awesome because, unlike other cup holders that require you to fiddle with Allen Keys, this one is easily removable, allowing you to switch it between bikes without using tools. If you want extra security, you can replace the quick-release nut with a hex nut, which will then require you to use tools to remove the HandleStash. 
In terms of what it can hold, the HandleStash is impressive. It's made of built-in elastic which stretches when you put a drink in it. Smaller items sit higher up in the elastic while heavier items stretch it out, allowing you to hold different size drinks. When nothing is in it, the elastic is compressed, so it doesn't get in your way. The top of the elastic also has a stretchy pull cord, so you can tighten it as needed to secure your drink.
How The HandleStash Works
The main differentiator of the HandleStash compared to other cup holders is that it's designed to prevent spills. To do this, the HandleStash uses elastic, with the idea that it can provide a bit of suspension for your drink. When you hit bumps, the elastic bounces, helping to stabilize your drink.
Below is an example of my HandleStash in action. As you can see, the elastic allows the cupholder to absorb more of the bumps, helping to avoid spills.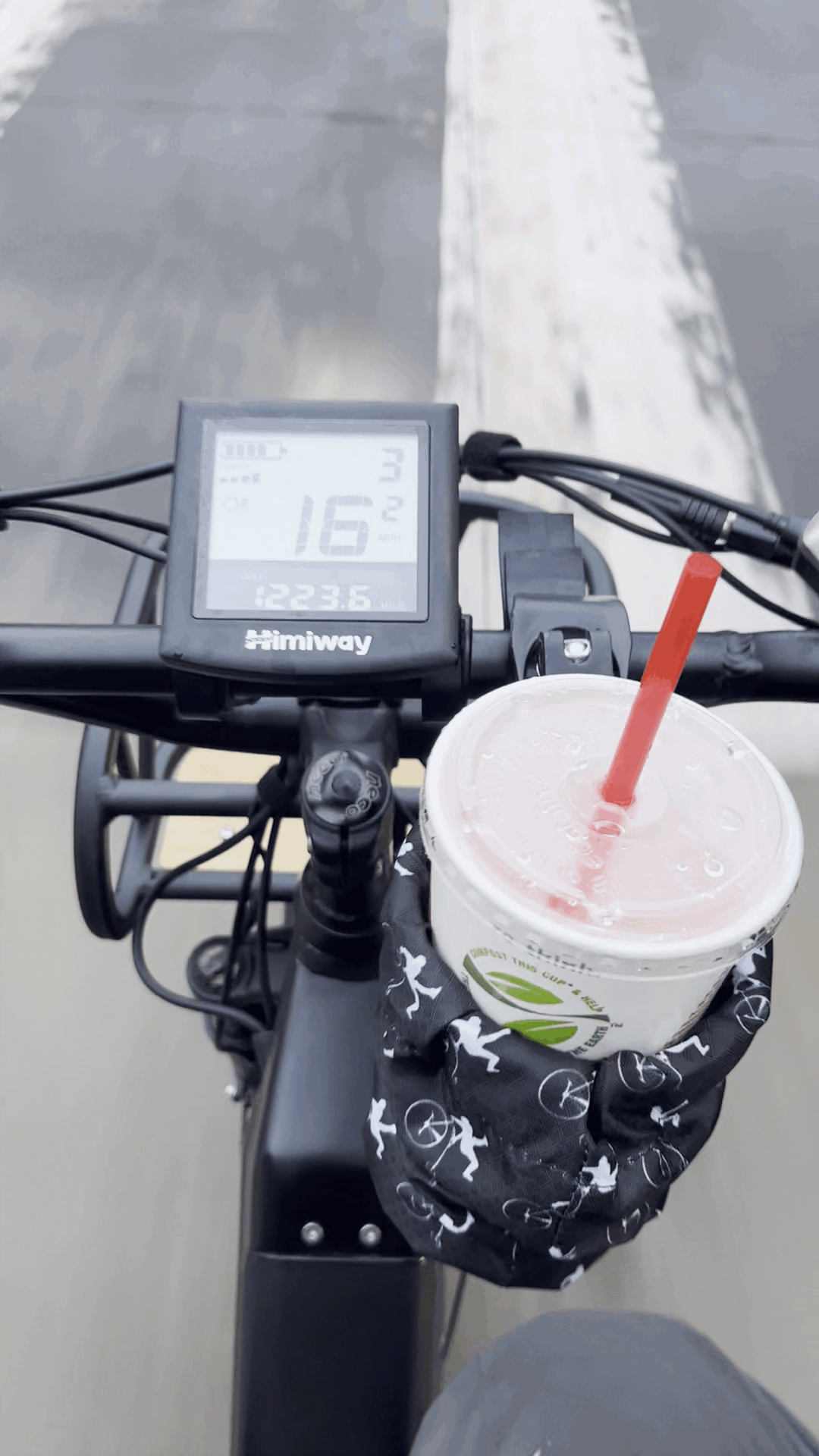 It seems counterintuitive, but adding more movement to the cup holder does indeed help stabilize it more compared to a fixed cup holder. I often ride with fountain drinks and while they are covered, stuff does inevitably spill, especially if the drink is full. With the HandleStash, I noticed far less spillage with my drink.
Why I Like The HandleStash 
In short, I like the HandleStash. Here are some of the main things I like about it: 
Easy Mounting System. My favorite part of the HandleStash has to be the easy mounting. I have a lot of bikes, so being able to easily switch the HandleStash between different bikes makes it much more useful to me. The other cup holders I have are much more difficult to remove since they require me to use tools. Because of this, I never switch them around and they essentially become a fixed part of my bike. But with the HandleStash, I'm easily able to move it around as needed.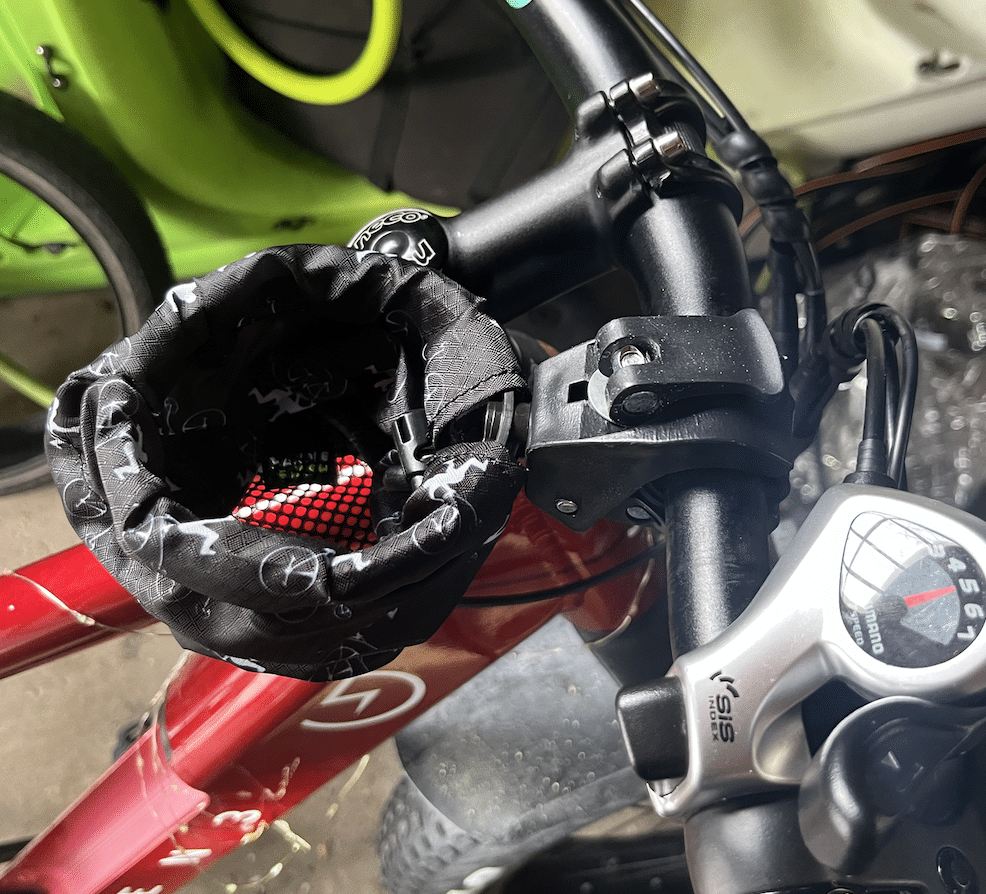 It Can Hold Many Different Size Drinks. The elastic opening of the HandleStash makes it far more versatile compared to other cup holders. Most of my other cup holders only come in one size, which means small or large drinks sometimes can't fit in them. But the HandleStash can hold all sizes of drinks – from small cans up to huge fountain drinks and large water bottles.
You Can Use It To Hold Other Small Items. One unintentional benefit of the HandleStash is that it can be used to hold other small items. Since it has a solid bottom and a large opening, you can stick your keys, wallet, or phone in it. And because the elastic stays compressed, your items aren't buried deep inside it, allowing you to grab them easily. It actually works really well as a phone holder, allowing you to see your phone screen as you ride. I think the fact that it doubles as additional storage for things I might otherwise have to put in my pocket is a huge benefit. 
Things To Think About If You Get The HandleStash 
I like the HandleStash, but there are a few considerations to think about if you are planning to buy this cup holder. Here are two things I'd think about.
It's More Expensive Than Other Cup Holders. The HandleStash is more expensive than other cup holders. The standard, solid color options are going to run you $38, while the patterned options come in at $45. Meanwhile, you can get other cup holders for much cheaper than that. I personally think that the price isn't that bad, especially given the features that I like about it (mainly the easy mounting system and the ability to hold many different-sized drinks).
That being said, if all you're looking for is something basic to hold a drink when you're riding, you're going to find much cheaper options on Amazon.
It's Not Going To Protect Against All Spills. While the HandleStash does a good job of reducing spills with its design, the fact is, it still can't fight the laws of physics. If you hit bumps, your drink will bounce up and down and liquids in your drink will move around.
In particular, if you're looking for a magic device that can let you ride with a full cup of coffee and not spill anything, this isn't it. You can't ride with a full cup of coffee and expect to not spill it. In my testing, when I rode with a full cup of coffee, it spilled about as much as any other cup holder.
Coffee is the most difficult drink you'll likely carry on a bike, but unfortunately, there's not much you can do to avoid spilling coffee besides riding slowly and holding the coffee in your hand. 
Final Thoughts
Overall, the HandleStash is an excellent cup holder. The design reduces spills, making it a great option for commuters and anyone else that likes to carry drinks.
It also fits on any bike and the easy mounting system makes it great for people with multiple bikes that might want to move the cup holder around.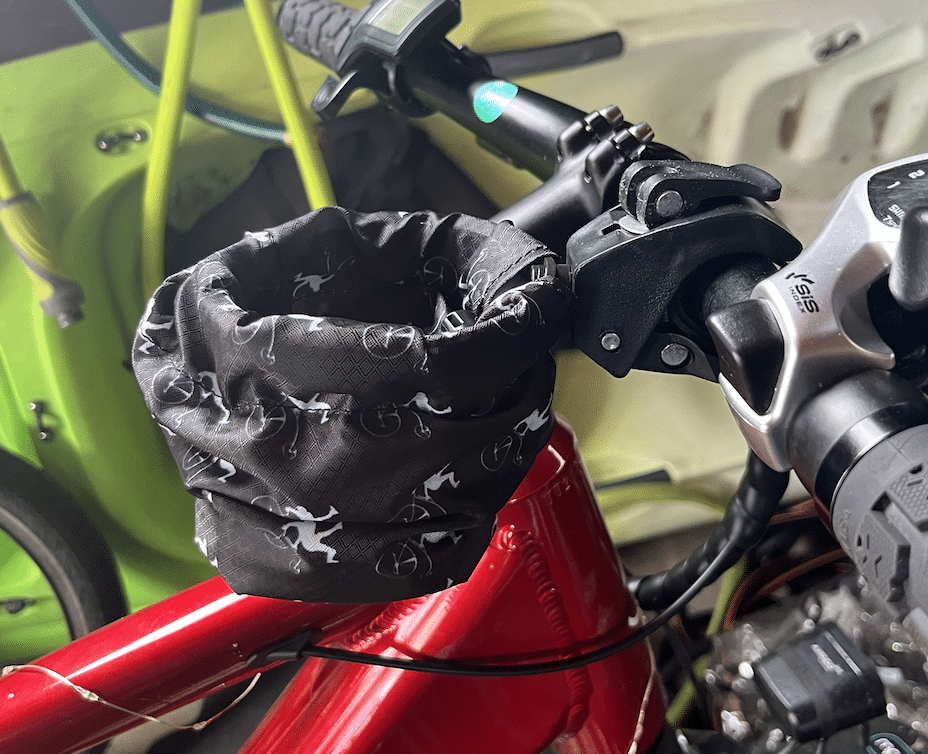 Finally, I love that it can hold a wide variety of drinks and also double as a holder for small items when I'm not holding a drink. When you're commuting via bike, it's easy to end up with a lot of stuff in your pockets. Being able to put these little things in the HandleStash (things like my keys or wallet), is great.
I hope this review was helpful to you. If you have any questions about the HandleStash, feel free to leave them in the comments below. Happy to share whatever I can with anyone thinking about getting this cup holder. If you're interested in the HandleStash, you can check out their website.
More

Recommended Ebikes

Check out these other ebikes I've reviewed:
Urban Arrow Ebike – Last year, I made one of the largest purchases I've ever made – I bought a $9,000 electric cargo bike from Urban Arrow. In my Urban Arrow review, I will discuss what it is and why I decided to buy this bike, as well as discuss how impactful a bike like this can be on your journey to financial independence.
Troxus Explorer Step-Thru Ebike – The Troxus Explorer Step-Thru is a fat-tire ebike that I've had the pleasure of riding for a while now. It has amazing power, great looks, and awesome range. If you're looking for a great fat-tire ebike that offers a lot for the price, the Troxus Explorer Step-Thru is definitely one for you to consider. Check out my Troxus Explorer Step-Thru Review.
Hovsco HovBeta Ebike – The HovBeta is a folding ebike with great specs and a lot of interesting features, and importantly, it's sold at a good price point. I've had a blast commuting with it and using it to do deliveries with DoorDash, Uber Eats, and Grubhub. Check out my Hovsco HovBeta Ebike Review.
Vanpowers Manidae Ebike – The Vanpowers Manidae is a fat tire ebike that I've been riding as my primary winter commuting bike and have also been using it to do food delivery with apps like DoorDash, Uber Eats, and Grubhub. After clocking in a decent number of miles with this ebike, I wanted to write a post sharing what my experience with the Vanpowers Manidae ebike has been like. Check out my Vanpowers Manidae Review.
Sohamo S3 Step-Thru Folding EBike Review – A Great Value Folding Ebike – The Sohamo S3 Step-Thru Folding Ebike is an entry-level folding ebike that offers a lot of value for the price point. I've been riding the Sohamo S3 for a while now, putting the bike through its paces, and I have to say, this bike has exceeded all of my expectations. Check out my Sohamo Review.
KBO Flip Ebike – The KBO Flip is an excellent bike. I've had a great time riding it and think it's a versatile bike that can be used for a lot of purposes and can fit a variety of lifestyles. It's worked out great for me as a general commuter bike and as a food delivery bike. Check out my KBO Flip Review.
Hiboy P7 Commuter Ebike – The Hiboy P7 is an excellent electric commuter bike that's offered at an affordable price point. The range and speed of this bike are both very good, so you won't have any trouble getting anywhere you need to go with it. As a food delivery vehicle, this is also good – with how much range it offers, you'll be able to work all day on a single charge. Check out my Hiboy P7 Commuter Electric Bike Review.
Himiway Escape Ebike – The Himiway Escape is an interesting bike for anyone looking for a moped-style ebike. If you're a gig economy worker, the Himiway Escape is particularly interesting and it's possible to think of it as an investment, especially if you can opt to do deliveries with the Himiway versus using a car. It's not cheap, but you can definitely make your money back when you compare the mileage you'll put on your car versus using an ebike. Check out my Himiway Escape Bike Review.
Espin Sport Ebike – The Espin Sport is a good ebike for someone who is looking for an ebike that feels and rides more like a regular bike. There are many ebikes that are really only bikes in name. In reality, they're basically electric mopeds. The Espin Sport, by contrast, is a bike you could probably ride without the battery and you'd feel like you're just riding a regular bike. Check out my Espin Sport Review.
More

Recommended Scooters

Check out these other scooters I've reviewed:
Varla Eagle One Scooter – The Varla Eagle One is an excellent scooter that can make sense for a lot of people. It can work as a primary mode of transportation. You can use it to work on gig economy apps like DoorDash, Uber Eats, and Grubhub. And it can also be a recreational vehicle if you'd prefer to use it for that. Check out my Varla Eagle One Review.
Varla Falcon Scooter – The Varla Falcon is an excellent scooter that offers a good amount of power at a lower price point compared to more powerful scooters. It's not exactly an entry-level scooter, nor is it a high-powered scooter. I think it fits somewhere in-between those two categories – an intermediate scooter if I had to give it a category. Check out my Varla Falcon Review.
Hiboy S2 Scooter – The Hiboy S2 is an excellent entry-level commuter scooter that's perfect for someone looking to save some money in transportation costs and improve their commute. Check out my Hiboy S2 Review.
Hiboy S2R Scooter – The Hiboy S2R is one of the more interesting electric scooters I've been able to test out. It's not a high-powered scooter, but for an everyday transport option, it's very useful, especially given some of the unique features that it has. Indeed, for the price, the Hiboy S2R might be the best value scooter I've used. Check out my Hiboy S2R Review.
GoTrax G5 Scooter – The GoTrax G5 Electric Scooter is a new commuter scooter from GoTrax that I've been riding for a while now. It's a scooter that's well-built, has a good top speed, and offers a lot of great features. And with a price point in the $500 range, it's a scooter that offers a lot of value for the money too. Check out my GoTrax G5 Review.
Sisigad Arrow Max Scooter – When it comes to scooters, you sometimes just need a solid, well-built, decently fast scooter to get you around. The Sisigad Arrow Max is an entry-level scooter that does exactly that. I've been riding it around a bunch lately – and so far – I find it to be a fun, affordable scooter that works well for commuting and getting around the city. Check out my Sisigad Arrow Max Review.
Fucare H3 Scooter – The Fucare H3 is a fun scooter and I've enjoyed testing it out. For a daily commuter or quick trips or errands, the Fucare H3 is probably the scooter I'll use. It's portable and easy to maneuver, so it's just easier to take on the road when I need it. Check out my Fucare H3 Scooter Review.