Ebikes are absolute game changers when it comes to urban mobility – they've completely changed how I move through the city. The GEN3 Outcross is a fat tire ebike that I've been using for a while now. After riding several hundred miles on this ebike in all weather conditions, I thought it'd be worth putting together this GEN3 Outcross review so you can decide if this is the right ebike for you.
The short of it is I've had a blast riding this ebike. It looks great, has great power and range, and works well in snow, ice, and cold weather. You can use it offroad (if that's the type of riding you like to do) and you can use it for city commuting too.
A quick disclaimer. GEN3 provided me with this ebike for this review. They did not have any editorial say in this review. All opinions on this bike are my own.
With that said, let's take a closer look at the GEN3 Outcross and my experience using it for commuting and as a food delivery bike.
GEN3 Outcross: Brief Overview
GEN3 is an electric micromobility manufacturer based out of Bellevue, Washington. They sell both electric bikes and electric scooters, which makes them a bit unique compared to other ebike companies (most only manufacture one or the other). As of the time I'm writing this, GEN3 currently offers 4 ebike models and 2 electric scooter models.
The GEN3 Outcross is a Class 2 ebike with a 500-watt motor, 500Wh UL-certified battery, and up to 35 miles of range.
It has 26″ x 4″ CST BFT All-Terrain tires. This is the standard fat tire size, which makes it easy to get replacement tubes or repair the tires as needed.
In summary, the GEN3 Outcross is a good option for someone in the market for an affordable fat tire ebike.
Pros:
This is a gorgeous ebike. It has a sleek design and a great color scheme. Most other ebikes are non-descript colors, so the red color of the GEN3 Outcross stands out in the sea of plain colored ebikes.
It works great in all conditions. I've used the GEN3 Outcross in basically every weather condition – snow, rain, freezing cold, etc. The bike has performed well no matter what weather I've had to deal with.
Has good enough power to tackle most hills and makes biking really easy.
Cons:
The bike is regularly priced at about $1,700, which I think is a bit steep for what the bike offers. However, GEN3 seems to have cut the price of all of its bikes over the past few months. Currently, the GEN3 Outcross is listed at about $1,200. At that price point, I think the GEN3 Outcross represents a good value. At $1,700, I'd have to think about it.
Does not have an integrated rear tail light. This seems odd because it doesn't seem like it would have been that expensive feature, especially since it has an integrated front headlight. It's not a deal-breaker by any means, but it is an annoyance to have to turn on the rear tail light when I'm riding at night.
Doesn't include fenders. This is a bit annoying when you're riding in rain or muddy weather because the rain and mud will splash your face and back. I ended up buying some cheap fenders on Amazon to address this problem.
This is a tall bike, so it can be difficult to get your legs over the frame. If you're short, this will not be a comfortable bike for you to ride.
GEN3 Outcross Specs
The GEN3 Outcross features a 500-watt rear hub motor with an advertised peak output of 1000 watts. This gives the bike plenty of power to tackle even large hills (there's a really big hill near my house and the GEN3 Outcross can power up it without any problems).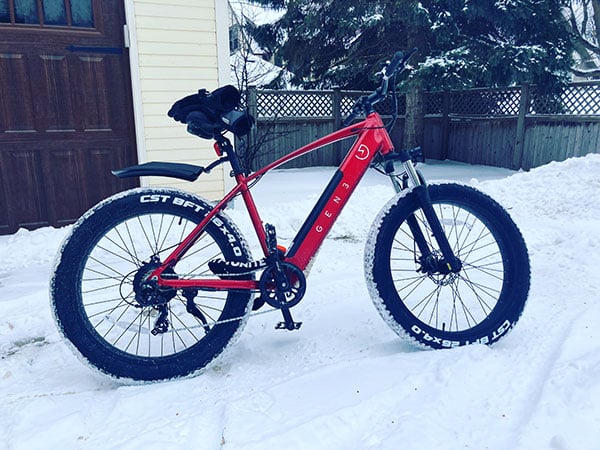 The bike uses a 500wh removal battery that fits nicely into the frame when installed. This gives the bike a sleek appearance. GEN3 advertises that you'll get up to 35 miles of range on a full charge. In a real-world setting, you'll probably get closer to 25 miles depending on terrain and how much pedal assist vs. throttle you use.
The bike is a class 2 ebike, which means it's powered by either pedal-assist or throttle. The pedal assist has five different power levels so you can get the right power level for your needs. I typically find myself pedaling in power level 4 or 5, which gives me consistent speeds of 17 to 20 mph on level terrain. If you don't feel like using pedal assist, you can also use the thumb throttle to power yourself without pedaling.
In terms of components, the GEN3 Outcross is a sleek bike that very much looks like a regular bike (in contrast to some ebikes that clearly look like an ebike). The frame is made of aluminum with a sleek red color. The battery is integrated into the frame when installed, so many people won't even notice that it's an ebike unless they're paying attention. The tires are 26″ x 4.0″ CST BFT All-Terrain tires and it has a 7-speed Shimano shifter. The brakes seem to be generic ones, but they do the job.
One thing to note is that this is a tall bike. The bike is 45 7/8″ tall, which is tall enough that I have to put a decent amount of effort to get my leg over the frame. On their website, they list their minimum rider height as 5'10". That's about how tall I am. I'm comfortable when I'm riding, but if I was shorter, it could be an issue.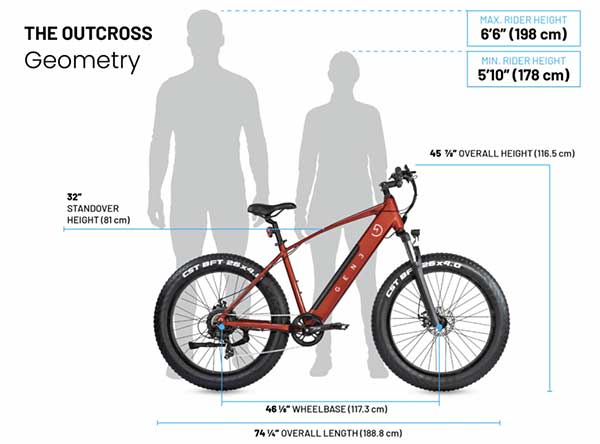 Unboxing And Assembling The GEN3 Outcross
Unboxing and assembling the GEN3 Outcross is simple and most people should be able to do it by themselves without any expert assistance. I'm not an expert on assembling bikes, yet I was able to do it in an hour or so by watching an assembly video on YouTube. The bike also comes with instructions to help you assemble your bike, but I think it's easier to watch the video.
The bike arrives in a large box and comes mostly fully assembled. The main things you'll need to do are assemble the handlebars, attach the front wheel to the frame, and attach the pedals. Attaching the front wheel can be tricky and I often have to bring new bikes to a bike shop to get the wheel straightened out. Fortunately, I was able to get the wheel on perfectly straight on my first try, so that saved me a trip to the bike shop. Once I had the bike fully assembled, I was ready to roll.
Using The GEN3 Outcross As A Winter Commuting Bike
Most people don't think of fat tire bikes as commuter bikes, but when you live in the Midwest, having a good fat tire bike can be invaluable for getting around during the winter. I'm sure the GEN3 Outcross is great for offroad biking, but admittedly I've never used it for offroad riding. Where I do know it shines is as a winter commuting ebike.
That's the main way I've been using the GEN3 Outcross. My family is a one-car household, and since my wife needs the car to get to work, I get around primarily by bike. I've always been a year-round bike commuter, but before I got the GEN3 Outcross, I mainly used either a regular road bike in the winter, or I used my RadCity, which has larger hybrid tires that gave me better traction. Getting my hands on the GEN3 Outcross means I now have a proper winter commuting bike I can use.
The fat tires on the GEN3 Outcross give the bike good traction over snow and ice. You still have to be careful on icy patches, but the fat tires did make me more comfortable and the better traction meant I had fewer falls this year compared to most winters.
Here's what my winter cycling setup looks like with the GEN3 Outcross: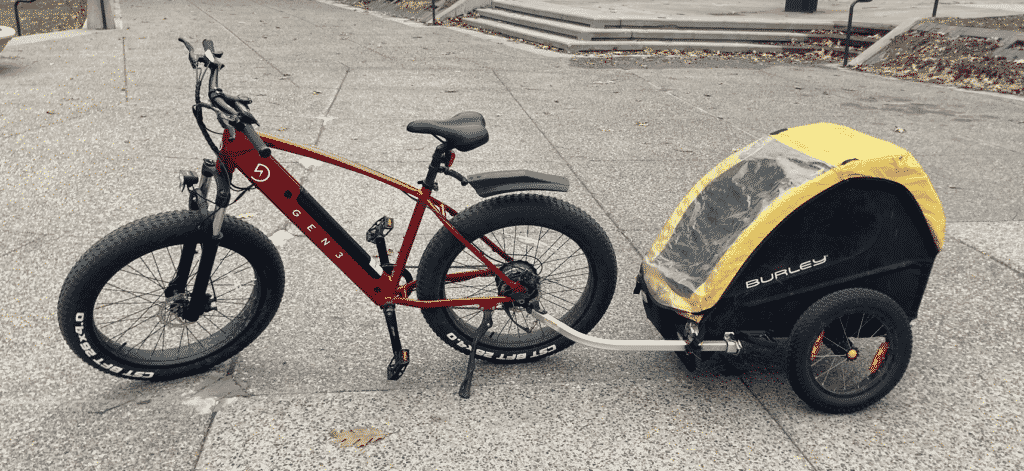 What makes me more hardcore than most cyclists, however, is that I bike with my kids too – even in the winter. My son and I live about 5 miles from his daycare and we bike there every day. I use a Burley Bee trailer with 16-inch tires to transport my son on the bike in the winter. The Burley is attached to the bike with a trailer hitch, which then attaches to the rear wheel. With the trailer hitch, I can easily attach and remove the Burley Bee as needed. This setup works well in the winter because my son can be covered in the trailer, separating him from the elements. And the large tires on both the bike and the trailer make it easy to get through snow and ice.
Using The GEN3 Outcross For Food Delivery And Gig Work
Outside of commuting, the other way I use ebikes is for doing food delivery and gig work with apps like DoorDash, Uber Eats, and Grubhub. The vast majority of people use their cars to work with these apps, but I've never done it that way. I've been delivering with these apps since 2015 and have always used a bike.
If you're able to, I highly recommend you consider using a bike or ebike if you're working with these apps. I'm able to make great money with an ebike in my city and indeed, in most cities, I believe you'll make more with an ebike since you don't have to worry about gas or parking and can move faster through dense parts of the city where delivery demand is often highest.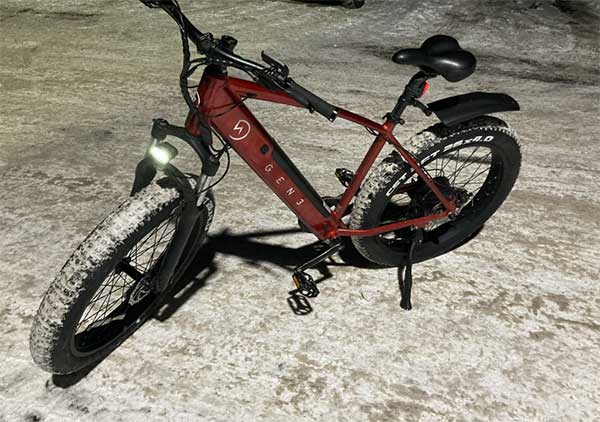 The GEN3 Outcross has proven to be a good food delivery vehicle during the colder months. Thanks to the fat tires, I'm able to get through snow and ice fairly easily. The large wheels also make for a smoother ride in the city, which is helpful when you're delivering food and need to avoid bouncing around too much. In terms of speed, I consistently ride at between 17 and 20 mph, which is plenty fast when riding in the city.
I'm also able to get plenty of range from the battery. GEN3 advertises up to 35 miles of range on a full charge, but in a real-world setting, you'll likely get closer to 25 miles depending on how much pedal assist power or throttle you use. That's still plenty if you're delivering primarily during busy lunch or dinner hours. If you need more range, you could opt to get a second battery. Compared to other companies, the GEN3 battery is pretty affordable at about $350. If you're doing a lot of deliveries, getting a second battery is probably a good investment.
If you're buying the GEN3 Outcross to do deliveries with, the price of the bike becomes much more palpable. I do food delivery as a side hustle and typically aim to make about $1,000 per month from DoorDash, Uber Eats, and Grubhub. Even as a side hustle, you can cover the cost of your bike fairly quickly. It's one way to basically get a free ebike – if you think about it as an investment rather than simply a recreational vehicle.
One thing to note is that the GEN3 Outcross doesn't come with a rear rack. This could be an issue if you are someone that uses a rear rack to hold food. I use a delivery backpack, so not having a rear rack isn't a problem for me.
The Things That Could Be Improved With The GEN3 Outcross
The GEN3 Outcross is a good ebike based on how I've used it. But there are some downsides that I think are worth mentioning. Here's what I think could be improved:
The Bike Doesn't Come With Fenders. The bike doesn't come with fenders, which helps to keep it lightweight and sleek. The problem, however, is that if you're riding in muddy or wet conditions, you'll end up getting splashed on your back and face. I ended up buying some cheap fenders on Amazon to address this issue, but it would be nice if the bike came with fenders already installed.
No Integrated Rear Tail Light. One of the more puzzling things about the GEN3 Outcross is the lack of an integrated rear tail light. Instead, you get a battery-powered light that you clip onto the seat post. I can't imagine it's that expensive to include a rear tail light, so I don't understand this design decision. In the grand scheme of things, this isn't that big of a deal, but it's just something that I found odd,
It's Difficult To Tell How Much Battery Power You Have Remaining. The display shows you the battery power remaining on your bike, but it's difficult to get an accurate picture because the battery power on the display seems to fluctuate depending on how much power you're using at the moment. For example, when I'm pedaling on flat ground, the battery will show a full bar. But if I go up a hill, the power will drop down to 1 bar since the battery is working extra hard, then it'll jump back up to 5 bars when I'm back on flat ground. I don't know if this is a glitch with my display or if this is simply how it works, but regardless, it makes it difficult for me to understand how much battery power I have left.
The Display Is Small And Difficult To See. The GEN3 Outcross display is small, which makes it difficult to see, especially if it's sunny. This isn't a huge deal, but it's a noticeable difference compared to the other ebikes I own.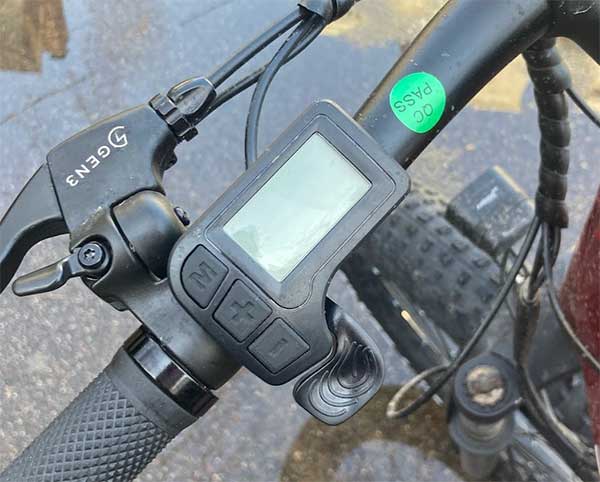 Final Thoughts
The GEN3 Outcross is a solid, affordable fat tire ebike that does a good job of doing what I need it to do. It works great for city riding, giving me a smooth ride in all conditions. It works really well as a winter ebike since the fat tires give it good traction over snow and ice.
In addition to being a good winter commuting ebike, the GEN3 also does well as a food delivery bike for all you side hustlers out there. The battery gives you good range and the ride is smooth. You'll want to add front and rear fenders if you're riding in muddy or wet conditions, but otherwise, it's a good bike out of the box. There are other fat tire ebikes out there, but they're likely going to cost more than this one. If you see the GEN3 Outcross at the $1,200 price point, it's worth considering.
If you have any questions, feel free to leave a comment below or shoot me a message. You can snag the GEN3 Outcross on the GEN3 website.
More

Recommended Ebikes

Check out these other ebikes I've reviewed:
Urban Arrow Ebike – Last year, I made one of the largest purchases I've ever made – I bought a $9,000 electric cargo bike from Urban Arrow. In my Urban Arrow review, I will discuss what it is and why I decided to buy this bike, as well as discuss how impactful a bike like this can be on your journey to financial independence.
Troxus Explorer Step-Thru Ebike – The Troxus Explorer Step-Thru is a fat-tire ebike that I've had the pleasure of riding for a while now. It has amazing power, great looks, and awesome range. If you're looking for a great fat-tire ebike that offers a lot for the price, the Troxus Explorer Step-Thru is definitely one for you to consider. Check out my Troxus Explorer Step-Thru Review.
Hovsco HovBeta Ebike – The HovBeta is a folding ebike with great specs and a lot of interesting features, and importantly, it's sold at a good price point. I've had a blast commuting with it and using it to do deliveries with DoorDash, Uber Eats, and Grubhub. Check out my Hovsco HovBeta Ebike Review.
Vanpowers Manidae Ebike – The Vanpowers Manidae is a fat tire ebike that I've been riding as my primary winter commuting bike and have also been using it to do food delivery with apps like DoorDash, Uber Eats, and Grubhub. After clocking in a decent number of miles with this ebike, I wanted to write a post sharing what my experience with the Vanpowers Manidae ebike has been like. Check out my Vanpowers Manidae Review.
Sohamo S3 Step-Thru Folding EBike Review – A Great Value Folding Ebike – The Sohamo S3 Step-Thru Folding Ebike is an entry-level folding ebike that offers a lot of value for the price point. I've been riding the Sohamo S3 for a while now, putting the bike through its paces, and I have to say, this bike has exceeded all of my expectations. Check out my Sohamo Review.
KBO Flip Ebike – The KBO Flip is an excellent bike. I've had a great time riding it and think it's a versatile bike that can be used for a lot of purposes and can fit a variety of lifestyles. It's worked out great for me as a general commuter bike and as a food delivery bike. Check out my KBO Flip Review.
Hiboy P7 Commuter Ebike – The Hiboy P7 is an excellent electric commuter bike that's offered at an affordable price point. The range and speed of this bike are both very good, so you won't have any trouble getting anywhere you need to go with it. As a food delivery vehicle, this is also good – with how much range it offers, you'll be able to work all day on a single charge. Check out my Hiboy P7 Commuter Electric Bike Review.
Himiway Escape Ebike – The Himiway Escape is an interesting bike for anyone looking for a moped-style ebike. If you're a gig economy worker, the Himiway Escape is particularly interesting and it's possible to think of it as an investment, especially if you can opt to do deliveries with the Himiway versus using a car. It's not cheap, but you can definitely make your money back when you compare the mileage you'll put on your car versus using an ebike. Check out my Himiway Escape Bike Review.
Espin Sport Ebike – The Espin Sport is a good ebike for someone who is looking for an ebike that feels and rides more like a regular bike. There are many ebikes that are really only bikes in name. In reality, they're basically electric mopeds. The Espin Sport, by contrast, is a bike you could probably ride without the battery and you'd feel like you're just riding a regular bike. Check out my Espin Sport Review.
More

Recommended Scooters

Check out these other scooters I've reviewed:
Varla Eagle One Scooter – The Varla Eagle One is an excellent scooter that can make sense for a lot of people. It can work as a primary mode of transportation. You can use it to work on gig economy apps like DoorDash, Uber Eats, and Grubhub. And it can also be a recreational vehicle if you'd prefer to use it for that. Check out my Varla Eagle One Review.
Varla Falcon Scooter – The Varla Falcon is an excellent scooter that offers a good amount of power at a lower price point compared to more powerful scooters. It's not exactly an entry-level scooter, nor is it a high-powered scooter. I think it fits somewhere in-between those two categories – an intermediate scooter if I had to give it a category. Check out my Varla Falcon Review.
Hiboy S2 Scooter – The Hiboy S2 is an excellent entry-level commuter scooter that's perfect for someone looking to save some money in transportation costs and improve their commute. Check out my Hiboy S2 Review.
Hiboy S2R Scooter – The Hiboy S2R is one of the more interesting electric scooters I've been able to test out. It's not a high-powered scooter, but for an everyday transport option, it's very useful, especially given some of the unique features that it has. Indeed, for the price, the Hiboy S2R might be the best value scooter I've used. Check out my Hiboy S2R Review.
GoTrax G5 Scooter – The GoTrax G5 Electric Scooter is a new commuter scooter from GoTrax that I've been riding for a while now. It's a scooter that's well-built, has a good top speed, and offers a lot of great features. And with a price point in the $500 range, it's a scooter that offers a lot of value for the money too. Check out my GoTrax G5 Review.
Sisigad Arrow Max Scooter – When it comes to scooters, you sometimes just need a solid, well-built, decently fast scooter to get you around. The Sisigad Arrow Max is an entry-level scooter that does exactly that. I've been riding it around a bunch lately – and so far – I find it to be a fun, affordable scooter that works well for commuting and getting around the city. Check out my Sisigad Arrow Max Review.
Fucare H3 Scooter – The Fucare H3 is a fun scooter and I've enjoyed testing it out. For a daily commuter or quick trips or errands, the Fucare H3 is probably the scooter I'll use. It's portable and easy to maneuver, so it's just easier to take on the road when I need it. Check out my Fucare H3 Scooter Review.